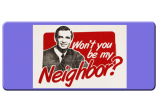 In this issue of Won't You Be My Neighbor? Vida Real Properties reviews homes active for sale and sold in Northwest Lakewood and West Wheat Ridge in the 80215 zip code. This area includes the neighborhoods of Applewood, Beverly Heights, Linda Vista, Eiber and Cedar Crest among others. The first chart below shows data for the 59 homes sold in the last 90 days. Normally, we want to use the median figures as a more accurate indicator. The median sold price was $435, 000 for homes of 4 bed/3 bath an above square footage of 1,638 and total square footage of 2,501. You can also see the sold price overall being a little above the asking price.

By comparison, the current 28 active listings have a median listing price of just under $500,000. That's almost a 15% increase for a little bigger home than those just sold. That shows you the uptick in prices just in three months!
Other interesting statistical information about this area:
There are about 8,249 homes.
The median age is 44.
89% of the people have completed a bachelors degree as their highest education level.
About 56% of the homes are owned.
Median household income  is $57,375 with 330 households earning between $35,000 to $40,000 annually.
Check out Vida's Market Insider to see more details about this area including area demographics, crime statistics and school data.
Contact Rogelio to sell or find your home!