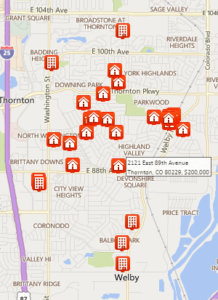 In this Won't You Be My Neighbor? edition, we visit Thornton (80229). The map above shows the properties that are available through the end of April 2016. Currently there are only 27 homes active sale with the median listing price of $239,400. This area continues to be one of the most affordable parts of the Denver Metro Area. At the same time the current days on market (DOM) has only reached up to 10 days once in the last year.  Homes go fast! You can see the history of prices and DOM's in the table below.
Detached units in the $100k's are available but you will also find newer and larger homes above $400k, especially on the east side of town close to Welby Road. Most of Thornton belongs to Adams County but parts to the south are in Denver County. To find out more about this zip code including more market statistics and demographic information,  click here.
Keep me in mind if you you are considering selling or buying in this area to get you more specific information. You can email me at rogelio@vidabroker.com or call/text 720-253-8513.